Monetizing Secrets Of Going Web-Social – Online Media
In electronics, Moore's Law states that the number of transistors per square inch on integrated circuits doubles every year. In other words, the advances made in electronics hardware grow exponentially every year.
It is the same with the online world of social media, it's really amazing. Not too long ago it was declared that if Facebook were a country, it would be the 4th largest in the world.
You can observe the youngsters and marvel at how naturally adept they are at multitasking across all kinds of hardware devices without flipping through the user manuals first.
Thankfully, user-friendliness does keep up with sophistication, so fewer people have nightmares over messing things up.
As for this e-book, I try to be as instructional as possible with numbered action steps and screenshots.
Otherwise, it is far more important to get your understanding right so that you can participate in any online communities and social sites with intent and purpose and without looking lost.
The first few chapters will take care of this 'thinking' part. Thereafter, much of everything else is explained in marketing context, which I believe is part of your expectation, as you begin reading your e-book.
Similarly, you are already a cell/mobile phone user without knowing the internal workings of the hardware system.
But by bringing certain less obvious knowledge to the fore, you can then find ways to take advantage of some previously untapped power.
This knowledge can and will position you as a leader, so let's begin :-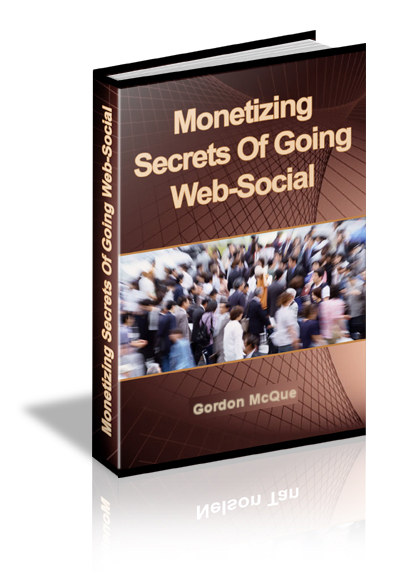 Get Your FREE Copy Of Monetizing Secrets Of Going Web Social E-book
My guess is you are most likely a member of 2 or 3 social networks like Facebook, Pinterest and Twitter, even if you have never heard of terms like "Web 2.0" or "social bookmarking".
See, you're already a Web 2.0 practitioner by actively conversing with other members online.
Inside this 80+ page report is a social media marketing blueprint PROVEN to generate more traffic and leads with the latest Web 2.0 strategies…
Now it's yours FREE.
Once the file is open, you may save it by 'Right-Clicking' and then 'Save As' (or Press Ctrl+S) in your chosen location.
How To Apply For This FREE Offer
Please enter your details in the form below and click the 'Submit' button.
This gives me permission to send you e-mails, including instructions to get e-books and reports.
If you do not want to receive these e-mails, then just check-out the rest of this site.
After you confirm, look out for a confirmation from me, including the subject 'Digital Information from StartMeUpFast'.
E-mail me at Gordon@startmeupfast.com if you have any questions.
Regards,
Gordon McQue
As A Professional Affiliate, I Earn From Qualifying Purchases
Posted on: September 14, 2019, by :
Gordon McQue