Mister Safelist – Fast, Free And Very Responsive
Start Cost :- Free
Site Owner :- Jerry Iannucci
Established :- 2012
Approx. Membership :- 5,000+
Payment/Benefits History :- earned and received, several times
Downline Builder Program :- yes, 20+ programs
First Upgrade :- $7.00 per month
Main Benefits :- 25,000 credits per month
Free members can use Mister Safelist to access our credit based mailer to send their text or html ads to our safelist every 3 Days (says 5 days on the site, but it is actually 3 days minus 1 hour).
We will even give you enough credits to email 1,000 of our members for free when you join right now!
Your Ads Get Seen
Fast, free, and very effective email advertising.
Each person Mister Safelist sends to your site will be required to spend a minimum of 7 seconds viewing your offer.
This is the perfect opportunity for you to put your best foot forward and show our members why your offer is the best.
Earn more credits by viewing our member ads.
Simply check your inbox every day for offers from other Mister Safelist members.
View the ads you choose and earn mailing credits that you can use to send your own ads to the list.
Active Members Only
You Deserve a Responsive Mailer…
Your ads are only sent to active members who have logged into Mister Safelist or checked their email in the last 30 days.
This insures that your credits are never wasted sending your ads to inactive members.
HTML Emails
All of our members have access to our HTML email composer, which will help you to create professional looking emails with graphics and formatted text that will help you get your ads noticed.
What are you waiting for?
Start sending your ads today!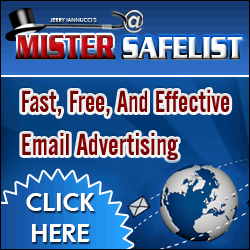 Free Banner Ads
In addition to email ads you will also have the ability to use your credits to have your banner ads displayed on the Mister Safelist website.
Banners are a great branding tool and an excellent way to get some extra exposure for your business.
If you need a free safelist that works for you and can bring new customers to your business everyday, then you need Mister Safelist.
Free Downline Builder
Automatically build your downlines in our recommended list of free traffic generation sites.
Any members you refer to Mister Safelist could potentially join any of these programs using your referral links which will help you to earn more traffic and more commissions.
Join Mister Safelist now and start getting your ads seen today!
Make Money
Earn a generous compensation of cash and credits for referring new members to Mister Safelist.
We provide you with all of the promotional tools you will need to help you spread the word about Mister Safelist.
If you are a professional Internet marketer who is serious about getting results then there is no better place to get your ads seen than at Mister Safelist.
Mister Safelist also offers a VERY generous affiliate program which allows even free members to earn a fantastic residual income.
Monthly Contests
We believe in rewarding our most active Mister Safelist members every month with free credits and cash prizes.
Will you be the next big winner?
Join Mister Safelist, grab your free membership now!
Take advantage of this amazing opportunity and start sending your ads through Mister Safelist today!
What's all the secrecy about List Mailing Systems? – find out and get tons of links to popular list mailing systems.
Discover the incredible Marketing Toolbox Portfolio – your gateway to innovative solutions, professional services and features, which will enhance your websites and marketing.
As A Professional Affiliate, I Earn From Qualifying Purchases.
Posted on: February 13, 2019, by :
Gordon McQue