Marketing System For A Lifetime – Internet For Business
There are two compelling reasons for how this report comes about.
Firstly, I had a conversation with some old friends and soon the topic meandered around our career and job market situation.
Time truly flies when you feel quite settled in what you love to do to earn a living. I've been doing Internet Marketing since Dec 2003 and have never looked back.
On this merit alone, I'm going to reveal the one and only online business model that I get stuck with all these years, doing the same thing over and over again; sure, the routine and work involved gets dry but it still serves me well.
The second reason is, in the process of forging new friend connections across social networks, I come across many people who are still not utilizing the Internet for business purposes.
If that's their original intention, I respect that, but if you are one of those bloggers who only depend on AdSense for pennies and nothing else, or that the home page of your business website is not designed as a landing page, you must get and read this report.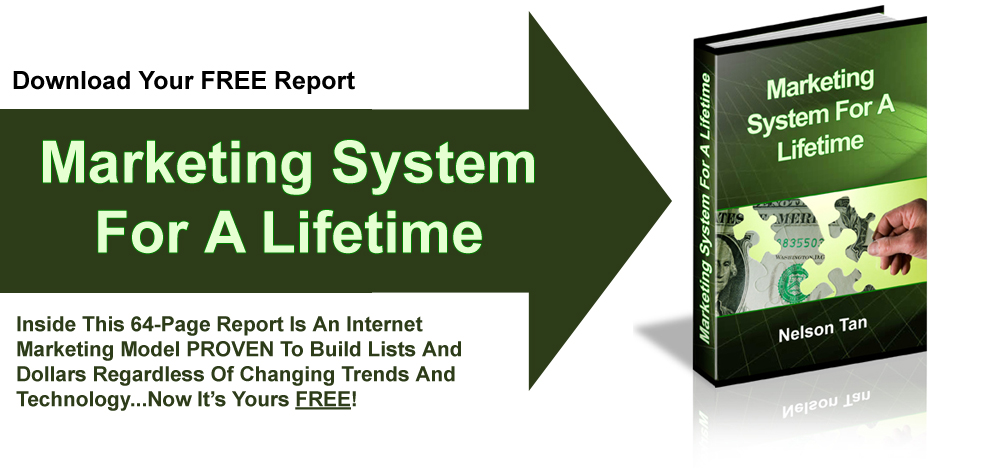 Get Your Free Copy Of Marketing System For A Lifetime e-book :-
Get Nelson Tan's renowned 'Marketing System For A Lifetime' e-book for nothing
Master this easy Internet Marketing business model and be secure for LIFE!
Once the file is open, you may save it by 'Right-Clicking' and then 'Save As' (or Press Ctrl+S) in your chosen location.
How To Apply For This FREE Offer
Please enter your details in the form below and click the 'Submit' button.
This gives me permission to send you e-mails, including instructions to get e-books and reports.
If you do not want to receive these e-mails, then just check-out the rest of this site.
After you confirm, look out for a confirmation from me, including the subject 'Digital Information from StartMeUpFast'.
E-mail me at Gordon@startmeupfast.com if you have any questions.
Regards,
Gordon McQue
As A Professional Affiliate, I Earn From Qualifying Purchases
Posted on: October 31, 2021, by :
Gordon McQue