List Impact – High-Impact Advertising
So you want a real impact?
Discover List Impact!
It's a new list builder that stands out and simply works.
And it's so much fun too.
Frankly, I'm impressed.
At List Impact you can:
* Email a big list
* Set up different ads
* Get instant traffic
* Unlock insane rewards
Drive Traffic And Make Profits
Plenty of ways to get exposure, drive traffic and make profits.
Forget advertising to the same bunch of people every day…
This site keeps growing.
List Impact is FUN and was made to get you real, lasting results.

Designed For Maximum Impact
You're invited to List Impact!
It's a brand new list builder designed for maximum impact.
Warning: it's very addicting.
Owned by Kenny and Sammy Kolijn.
You might know them from their sites Fast List Mailer and List Unlocked.
You will love List Impact.
Go check it out…
I like it a lot:
* Custom-coded
* Dedicated owners
* Quality email advertising
* Extra ads available
* Active members
* Growing every day
* Generous commissions
* Insane REWARDS.
Great site for marketers!
Achievements System
With the Achievements system you can unlock rewards for:
* Reading emails
* Referring members
* Making purchases
* Making commissions
Get instant access now.
I'm soooo loving it.

5 – List Impact
6 – List Impact

7 – List Impact
8 – List Impact
You've Explored List Impact Let's Boost Your Results?
Let's Boost Your Business
List Impact offers multiple ways to advertise your business to our active members in the Make Money Online, Online Business & Marketing niches.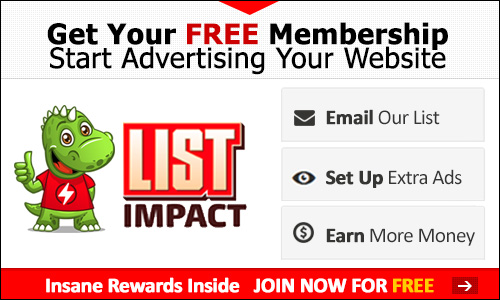 What's all the secrecy about List Mailing Systems – plus links to loads of popular list mailing systems.
Discover the incredible Marketing Toolbox Portfolio – with many links to innovative solutions, professional services and features, which will enhance your websites and marketing.
Posted on: May 18, 2021, by :
Gordon McQue